I suppose this new-ish fashion obsession began quite some time ago.  When I was formulating this current blog in my mind, I remembered an old blog entry: Tuesday May 30, 2006. And one [reason] why I am glad I came back. "Anglo Mania: Tradition and Transgression in British Fashion."  At the MET.  Yesterday.  The Stephen Jones Raven Headdress was debilitating. 

I had just returned from studying in Italy and was none too happy about it.  After traveling to New York to visit some friends, my spirits had been lifted.  Perhaps it is within this euphoric fashion rush that my current fascination first took unconcious root.  I am sure that many of you have seen the stunning images from the Alexander McQueen s/s 08 collection.  Here are just a few that best display the fashion topic at hand: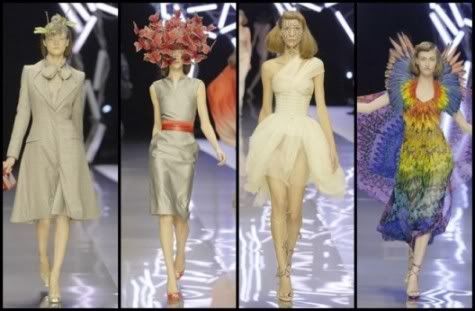 Feathers in general are HUGE this spring, but Philip Treacy and Alexander McQueen created the most elaborate themed accessories, bar none.  From steel headdresses with giant dragonflies to swarms of butterflies to feathered faces to flock-like dresses, they did it all.  And if there is one thing I adore most, it's fashion at it's most artistically forward.  Nevertheless, aesthetics must still have function in fashion for the average wearer.  And just as quickly as I was pondering about the flora and fauna's wearablility, one of the most trend-setting Swedish bloggers on the Internet re-interpreted these Isabella Blow-worthy pieces into something much more delicate and everyday.  Amanda of The Moderniteter: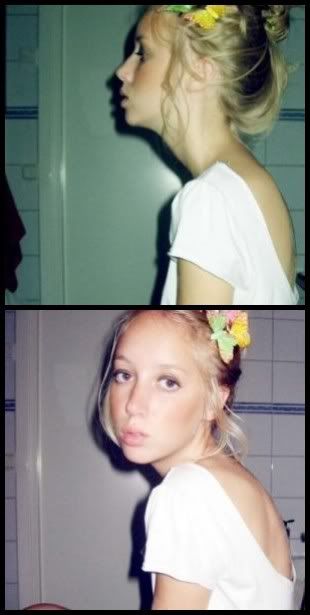 Now, since I cannot read Swedish, I cannot be completely sure of what material these particular butterflies are made.  I do know that while thrifting the other day I stumbled across a bag of old florist butterflies.  Which are made out of feathers!   (And I paid only a quarter a piece!)  Once home, I wired them to a small barrette with rose buds (also purchased at a thrift store) and voila!  – killed two birds with one stone.  Metaphorically speaking, of course.