Hi Amber!

I just recently discovered your website and I thoroughly enjoy the photos you post of fantastically stylish, but very unique-looking women. I am making it my goal this year to seriously explore, research, stomp around the city, do whatever I can to source out cool thrift stores. So here comes my frank question. These women look so amazing and seem to find great items in thrift/vintage shops. I, of course, will not overlook the fact that what they exude of their character in their ensemble contributes to how interesting it looks. But where are they finding these cool pieces? I find myself feeling just….boggled…by where I need to go to find something as interesting as what these girls wear. Perhaps I am not dedicating enough time or patience to digging through the racks? Are there any stores, or tips, you could suggest? Thanks for your time and have a great day!

Cheers,
Nadia
Thanks Nadia!
I know. My mind is boggled daily at the genius of our thrift stars. However, before you get too intimidated, you should keep in mind that quite a few of our most featured ladies are professional thrifters! They make it their job to find boggling pieces to resell on eBay, so they spend much more time than most of us playing dress-up and filling their closets (and ours) with glorious, glorious vintage. So don't get too down on yourself! That being said, here are a few tips to help you in the time you do spend with your nose in the mothball-scented racks.
1. Head for the hills!
Skip the picked over thrift stores that are right in the middle of the city. You're getting what's left over when all the hip kids that live there (and work in the thrift store) have made off with all the good stuff. Go to the 'burbs where old church ladies are pricing vintage lacoste shirts at 50 cents.
2. Be there first! Have a score-gasm.
Most thrift stores have certain days when they put out their "new" inventory. Ask the clerks and find out when that is. Get there early that day and you won't be disappointed! Perhaps an almost new pair of Irregular Choice shoes worth $80 (seen it!)? A skinny vintage leather bomber? A Pucci scarf…? Its a treasure hunt. Just yesterday I scored an Oscar de la Renta corduroy blazer in perfect condition for only $3.

3. Context, context, context…
I cannot overstate the importance of a good sense of context. It's easy to get overwhelmed by the hideousness that engulfs the racks. Muumuus, terrycloth jumpsuits, tawdry christmas sweaters, stretched out bicycle shorts, mom jeans… In your hurry to sift through it all, you might nonchalantly skip over your new favorite piece. Try to make a day for yourself when no one is waiting for you when you can take your time and just try on everything. Get to know what looks good on your body, what would fit with your current wardrobe, what makes you feel happy! Think of how the piece would look with your favorite pair of jeans or new moccasins. Some ridiculously 80's sweater might look totally hip with your edgy haircut and designer ankle boots. If it tickles you, TRY IT ON! Don't be too quick to toss it aside because you don't think you can pull it off. Challenge yourself!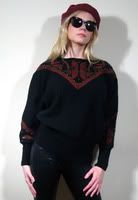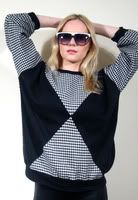 …Also, don't stay stuck in the women's section! If you're petite, check out the kids section for a shrunken blazer or a little dress you can wear as a top! Or head over to the men's section where you can find oversized cardigans or some nicely cut trousers. Think about ways you can alter things as well. Maybe that dress is overly precious as is, but hem off a few inches? A sophisticated mini dress.
4. Play dress-up.
This is the fun part. Get all your loot home, pour yourself a glass of wine and spend a day ransacking your closet. Maybe invite a good (open-minded and positive) friend over for a second opinion, but remember you're trying to challenge yourself. Try your new finds on in different combinations and with different hairstyles. Try layering them under and over things you already have. Try different colors of tights, different kinds of shoes and accessories. Go crazy, loosen up. Get used to seeing yourself in a new light (repeat to yourself, "I'm a thrift STAR!") and maybe soon you'll have the confidence to wear some of your crazy concoctions out of the house.
5. Post on Wardrobe Remix.
One of the rules of wardrobe remix is to post an outfit that you actually wore. So do it! Swallow your self-doubt and rock your new finds! The cool thing about wardrobe remix is that the more creative you are, the more good feedback you tend to get. And the more good feedback you get, the more confident you'll feel.


6. Don't have time for all that? Spend a little more money and shop online or in vintage boutiques.
Keep in mind that most vintage pieces, however used, will usually be better quality and last longer than a gauzy $9 sweater from Forever 21, not to mention the sweatshop free, recycling karma points you earn when you purchase them. So if you have too little time and a bit of extra money to spend, eBay, online vintage shops and boutiques are a worthwhile alternative to thrift stores. They have stylish people doing all the digging, legwork and quality control for you. Some stores even hire stylists who will put the clothes into context with current trends on a hip model. Here's a list of some of my favorite online shops to get you started.

Billie Goat Vintage
Liebemarlene Vintage
Thriftwares
The Olive Shoppe
Sally Jane Vintage
Vintage Revolver
PastModern Vintage
La Meow Vintage
Tin Roof Vintage
Mill Street Vintage
California Vintage Connect
Indie Cult Vintage
Vintage Amour
Get a discount with coupon code PAINFULLYHIP at:
PenelopePups Vintage
ModCloth Vintage