Hey everybody! Thanks very much for your well-wishings this week. My fever finally broke so I am definitely on the up and up and should be back to posting regularly by tomorrow. In the meantime, Sarah will end the hip famine with this inspiring little gem of a post. Thanks so much, Sarah!
-Amber
What is it about street-style that makes people (like myself) compulsively check ten or more sites everyday? I believe it's the quirk. The element you just do not expect to see. The new and innovative takes on a well-established tradition – which is what all fashion lovers adore most, is it not? Each season we wait with bated-breath to see the new collections put forth by our personal icons. Yet, all of this, this creativity and visual feasting, is now much more readily available on the internet. With daily updates from across the globe of real people taking sartorial matters into their own hands – who (for the love of fashion) could resist? Not I. Don't get me wrong – there is still the art form that is high fashion and all the beautiful aesthetic outputs that results from it. But I can't help noticing that girls on the street are inspiring just as many of the fashion forward these days as the runways. Perhaps these same girls are even inspiring runway looks. It's those unexpected accoutrements and alterations – the dash of quirk – that makes street fashion absolutely perfect in its 'imperfection'. And most of the modern designers considered significant use this element of the unexpected in their collections season after season. Case in point: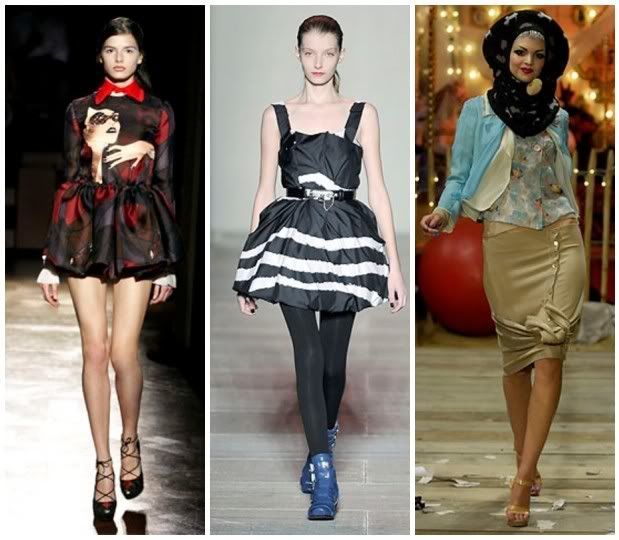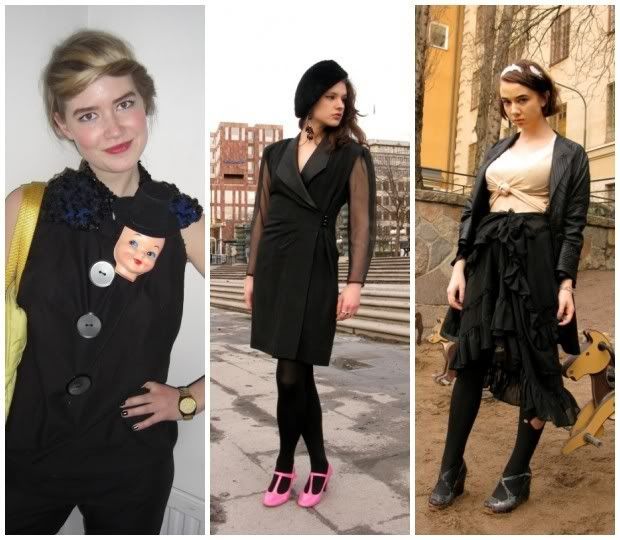 Moving in a zig-zag pattern from top to bottom and left to right: Miu Miu Carnival-esque, masquerader dress and a Reyjavik Looks' girl's seemingly DIY doll-face accessory . Suprisingly bright shoes with an otherwise somber look at Marc by Marc Jacobs and on Facehunter. And, lastly, inspired by the queen of sartorial-liberties Little Edie Beale, a look from John Galliano and yet another innovative Miss from Facehunter.